HEALTHY AND UNHEALTHY FOOD WORKSHEET
Sometimes we struggle explaining to kids what's healthy or what's unhealthy to eat. Or why eating chocolate all day long might harm our teeth and cause health problems. If you're having this difficulty here is a great way to help kids to comprehend the point of eating healthy food and cutting off on sweets and other unhealthy food.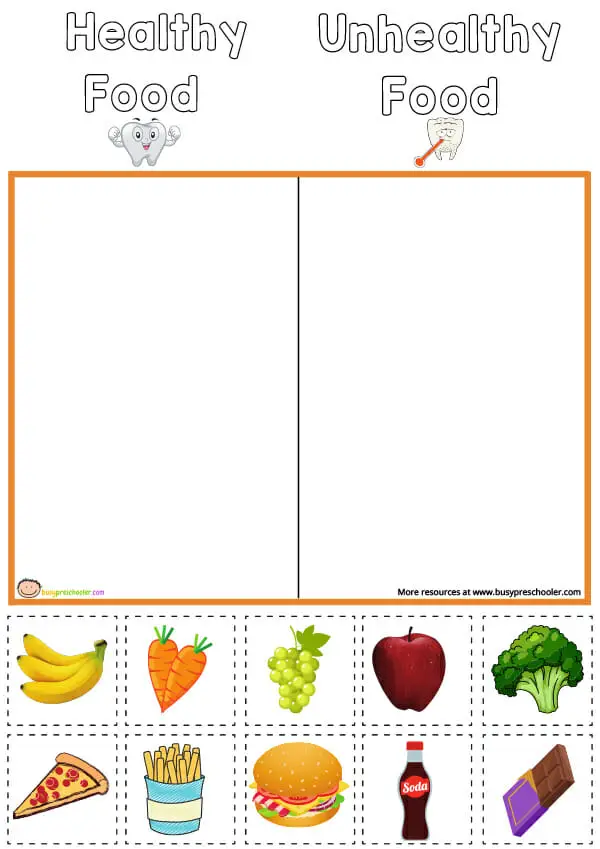 This fun food sorting activity includes the cutest pictures of both healthy and unhealthy food such as bananas, French fries, soda, hamburgers, and so on. Do you want to know more about this sorting activity? Okay then, here is what you need to do!
How to use this worksheet
Download our free heathy and unhealthy food (the link is below).
Successfully downloaded? Great! Print it out!
If you want to use your worksheet longer, laminate it and use it again and again.
For the beginning introduce the child to healthy and unhealthy food.
Provide your child with the worksheet, glue, and scissors and explain how the task must be done (cut out the pictures).
For a better result, you can ask your child to name each food card before sorting it in the right column.
Explain why healthy food goes to a "good tooth" column and unhealthy food to the "bad tooth" column. This will give your child a better understanding.
After giving all the instructions let your child sort the rest of the cards independently.
This food sorting activity not only teaches kids how to distinguish healthy and unhealthy food but also gives them a chance to practice their fine motor skills when using scissors to cut out the small food pictures or develop their hand-eye coordination through simply using their little fingers to glue the pictures in the columns.
This worksheet can be useful if you're teaching your child the names of the food or even colors and shapes. There are so many ways to use this healthy and unhealthy food sorting worksheet. So, go ahead, and do it! Your free download is waiting for YOU!
For other food-related activities click here.